ClearCheckbook for Phones and Tablets
Do you want to use ClearCheckbook on your phone or tablet? You're in luck! ClearCheckbook will scale to fit all of your screen sizes whether you're on a computer, phone, tablet or other mobile device.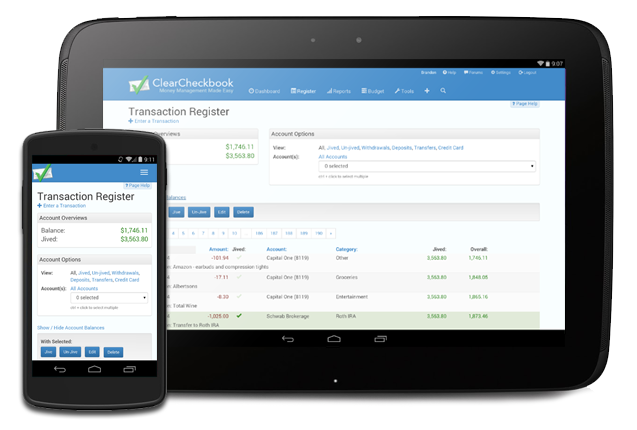 What does ClearCheckbook Mobile offer for me?
ClearCheckbook Mobile offers all the same great features you've come to expect from ClearCheckbook. All aspects of the mobile site are optimized to display and work wonderfully on mobile phones of all sizes, tablets and computers.
Add / Edit / Delete transactions
View Transaction Summary
See your Reports
Manage your Budgets
Setup and Manage your Recurring Transactions / Reminders
Full ability to manage all of your settings (accounts, categories, initial balances, login settings, currency and date settings)
All Premium features are supported
plus everything else ClearCheckbook has to offer
To start using ClearCheckbook on your mobile device, simply go to ClearCheckbook.com and sign into your account!
Already have an account?
Sign in at the
Log in
page.
Not a Member? Not a Problem!
If you're not a member of ClearCheckbook yet, we encourage you to watch some videos that showcase the main features of the site on our
tour
page.
After taking the tour, you can go to our
register
page and create a FREE account!
Latest ClearCheckbook News