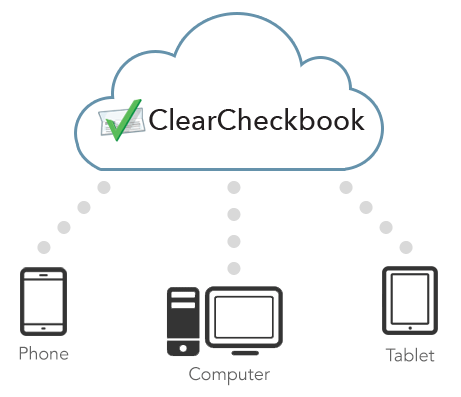 ClearCheckbook is Everywhere You Are
We make managing your finances easy by providing access to your data from any device that has internet connectivity. With ClearCheckbook you don't need to feel like all of your financial data is trapped on your PC.
ClearCheckbook can be accessed from more than one location and on multiple devices simply by logging into your account. All of your data is stored centrally on our servers so no matter which device you check, all of your information is up to date.
This cloud-centric approach makes it extremely easy to enter your transactions, check account balances, view budgets and more from anywhere you have an internet connection.
Out at the store buying groceries? On the couch surfing on your tablet? No problem, use one of our mobile apps to access ClearCheckbook. Any changes you make will be immediately synced with our server.
This syncing approach is very useful for couples or families with joint bank accounts. If one person is out shopping and entering their transactions, the other person can immediately see the effect of this on their account balances from their phone or computer.
ClearCheckbook has the tools to help make managing your finances a breeze.
The list below showcases some of the main tools and features available to ClearCheckbook users. In addition to this list, you can check out a tour of our finance tools to see more of the tools we have available.
ClearCheckbook.com
is an extremely easy way to balance your checkbook online, track your spending, set a budget, manage your money and more. As an online checkbook, you enter your receipts into the site and assign each transaction to an account and category. You can go back through the online checkbook register and mark transactions as "Jived" (our word for cleared/balanced/etc). This way you will always know what transactions have been cleared with the bank and how much money you have. We also use the account/categories you assign a transaction to generate reports and use them for your budgets.
We encourage you to try the site out and see how it can help you manage your money and get your finances under control. The site is completely free to sign up and use. We also have some additional
premium features
that can be activated for a very small monthly payment.
In addition to our main website, we also offer money management applications built specifically for the iPhone, iPad, and Android mobile devices. All of our apps sync directly with the website so you'll always be on top of your finances.
Money management is more important now than ever. With everyone taking more of an interest in tightening their budgets, having a powerful tool at your disposal to track all your spending and saving, as well as viewing reports and setting budgets is extremely important. Take a
tour of our financial tools
and see if ClearCheckbook is the right tool for helping you manage your money.