We're happy to announce an update to ClearCheckbook that allows all premium members to attach files to their transactions. This is great for attaching purchase orders, receipts, contracts, statement of works, etc to your transactions for archival purposes and to easily correlate transactions with any necessary documents.
If you're already a premium member, you can enable the Attach a File feature by clicking on
Settings
at the top right side of the page and then click on
Manage Custom Transaction Fields
and then change the drop down list next to the
Attach a File
option.
Once you've enabled the Attach a File option you'll see a new option on the Add and Edit transaction fields that allow you to select a file. When you add or edit a transaction after selecting a file, the file will be given a unique codename and uploaded via secure connection to our file hosting server.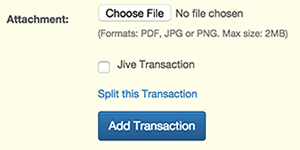 Once you've attached a file to a transaction, you can view it by clicking the paperclip icon. This will download the file to your computer so you can refer to it as needed. You can also use the Search tool to find all transactions that have an attachment associated with them. This will make it extremely easy to hunt down the necessary transactions if you're searching for the file later.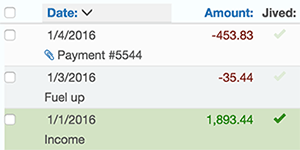 This has been a highly requested feature and we're happy to have it out and available for use now. There aren't immediate plans to integrate this ability into the iOS or Android apps that are currently being rebuilt but it's something we'll look into for a further update.
The fine print: The files you attach are limited to 2mb in size and have certain file format restrictions only allowing documents and images (such as PDF, JPG, PNG, XLS, etc). Deleting a transaction with an attachment associated with it will also permanently delete that attachment from our servers. Editing a transaction and replacing the attachment with a new file will permanently delete the old attachment from our servers.