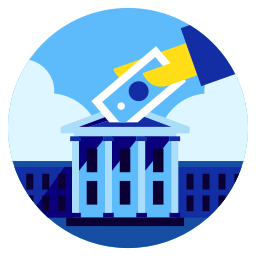 Preparing for Taxes
ClearCheckbook is a great tool for tracking your spending and saving information which will help make filing your taxes a breeze. If filing your taxes stresses you out, or you just want a better way to organize all of your transactions for tax purposes, we're here for you.
Step 1:

Set up spending and saving categories
Properly categorizing your transactions is the first step toward being able to generate reports and totals that you can use at tax time. When you create your ClearCheckbook login, we set up several default categories but it might be beneficial for you to create some custom categories specific to your tax situation.
Some helpful categories to have for tax purposes are Utilities, Rent / Mortgage, Student Loans, Car / Travel, Miscellaneous Writeoffs, etc. When you make a purchase toward one of these categories, you can set the transaction to the appropriate category so it's easy to find when you're doing your taxes.
You can use the Settings -> Manage Categories page (linked below) to create as many categories as you'd like.
Step 2:

Add all your transactions and properly categorize them
You can add your transactions to ClearCheckbook multiple different ways: Manually adding transactions through the Add Transaction form, Connecting your bank and having your transactions automatically downloaded, and Importing your transactions via CSV, OFX, QFX and QIF file.
When you manually enter transactions, setting the category is as easy as changing the Category drop down list. When you import your transactions or have them synced from your bank, you'll need to take a few extra steps to make sure your transactions are properly assigned to their categories.
Both the Import Transactions tool and the Bank Connections have a keyword matching page (linked below) where you can set up associations between keywords and which category that keyword should be assigned to.
Step 3:

Run reports and get your spending totals
Once you've set up your categories and added your transactions for the year, you're ready to turn that data into something you can use to help with your taxes! We have many reports that can help you during tax time, but the Search tool and reports listed below are the most frequently used.
Search Tool - The Search Tool is a great way to find how much you've spent on certain categories for a given time period. This tool gives you the most flexibility for finding transactions. When you run a search, you'll see the total deposits and withdrawals for the transactions that match your search criteria.
Category Text Reports - The Category Text Reports show you all of your categorical spending by month, and the total spent, for a given time period. If you've properly categorized your transactions, this report will cover most of the information you need for finding amounts needed for your taxes. You can click on any cell in the report to see a list of the transactions that make up the number.
Pie Year Reports - The Pie Year Reports are similar to the Category Text Reports but they show the total spent per calendar year in each of your categories. This report makes it easier to see how spending in one category compares to another category.
Profit / Loss Statement - If you run a small business or are part of an organization where a Profit and Loss statement is needed, we have one available for our ClearCheckbook Premium members. You can find this report in the Reports tool under the Beta tab.
Step 4:

Export transactions or spending data (optional)
If you need to export any of your transactions for your CPA, you can do that easily with the Export Transactions tool. This tool uses the same form as the Search tool and will allow you to select a set of transactions to export to a CSV file which can be printed or saved to your computer.
If you're having trouble with some of your reports or category totals appearing incorrect, there are a few reasons this might be happening. The most common reason is a transaction or transactions were either uncategorized or categorized incorrectly. You can use the Search tool to help track down these category issues.
Another problem could be related to split transactions. The recommended way to handle split transactions is to leave the parent transaction uncategorized and only categorize the split children. If the parent transation is categorized the same as one of the split children, you might see inaccurate results. We have a Split Transaction Health Check that will find any of these categorization problems so you can fix them.