Signing up for ClearCheckbook
Signing up for ClearCheckbook is free and easy. If you're having trouble signing up or have any questions, we hope this page will address them.
Table of Contents
Required Information
The only information we require when you create a ClearCheckbook login are:
Username - This must be unique from any other users in our system. It can also be an email address.
Email Address - This must be unique from any other users in our system.
Password - A password which we recommend you don't use on other websites.
Terms of Service - You must agree with our Terms of Service.
Project Code
A Project Code is an optional code provided by some classrooms to tailor ClearCheckbook toward a specific class project.
If you were given a project code but forgot to enter it when you signed up, you can add it by clicking on Settings at the top right side of the page and then click on Enter Project Code
Error Messages
Username or Email already exists - Either the username or email address you entered is already in our system. First, try making a more unique username and trying again. If that's not the problem, make sure you don't already have a ClearCheckbook login. If you continue to have trouble you can contact us.
Passwords don't match - Make sure the password and password verification match. Any capitalization, punctuation and spaces must match exactly.
Invalid Project Code - Make sure the project code is being entered exactly as it was given. Most codes are 4-8 characters long and rarely have spaces in them.
Video Walkthrough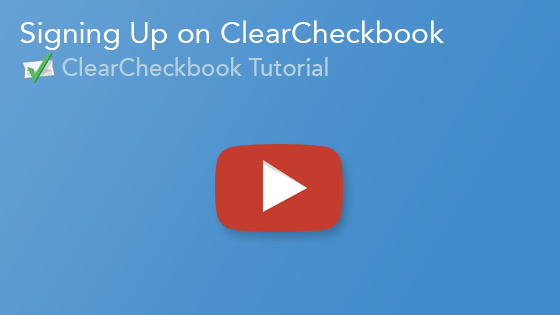 Learn how to create a login and sign up for ClearCheckbook.com
Direct link to YouTube